When you're creating content for your website you may be wondering how you can increase in turn earn ad revenue. Fortunately, there are new marketing strategies constantly introduced into the conversation that allow you to do so. One such strategy you may or may not have heard of is long-form content. More than just a buzz-word, this written style of content – typically 2,000 words or more – is on the rise.
Although increasing the length of your blog might seem counterintuitive when you look at studies of decreasing attention spans along form content delivers increased online visibility, social shares, links, and more. The strength of your online presence and increased traffic will ultimately result in more opportunities for ads.
Let's take an in-depth look at long-form content and what it can do for your website and overall online presence:
What Defines Long-Form Content?
There is some debate about the minimum length of long-form content. Typically, written long-form content hits the 1,200 to 2,000 word count. However, as it continues to evolve, long-form blogs in 2019 are slowly increasing to 3,000 to 10,000 words. Either way, 2,000 words marks a lot more content than the traditional 350 to 600 word practice of the past.
How Can Long-Form Content Impact Ad Viewership?
As you will discover, long-form content simply converts better. And ultimately, the more visible your content is and the more it is shared the more people will visit your website and see your ads. It is also important to make sure your content is worth reading in order for visitors to stay on your website. The more time they spend there, the more likely they are to engage with an ad in addition to the content. Remember – those clicks and impressions are the key to earning ad revenue.

So…

How and Why Does Long-Form Content Perform Better?
Higher Google Rankings
The success of long-form content is rooted in Google's algorithm. Longer content ultimately produces higher search rankings. Studies like SerpIQ's show Google prefers content rich websites.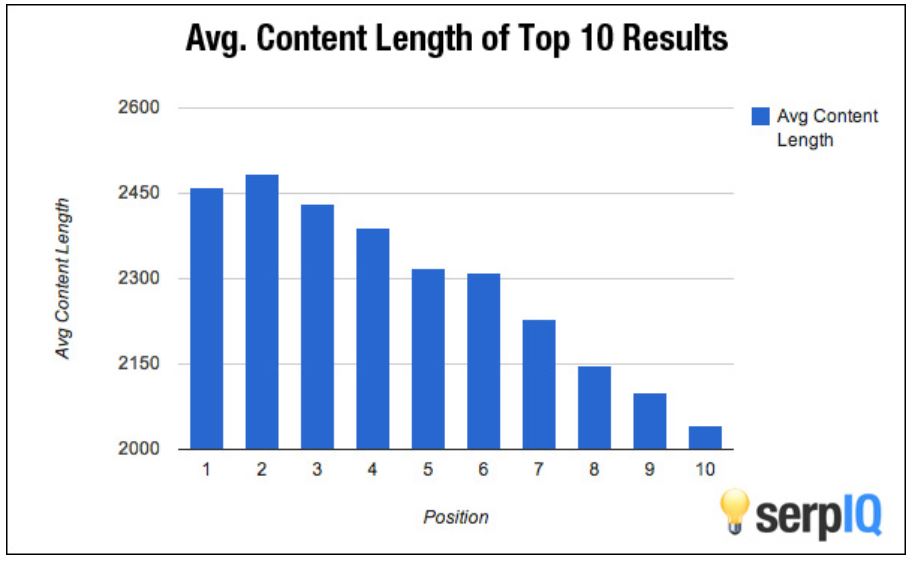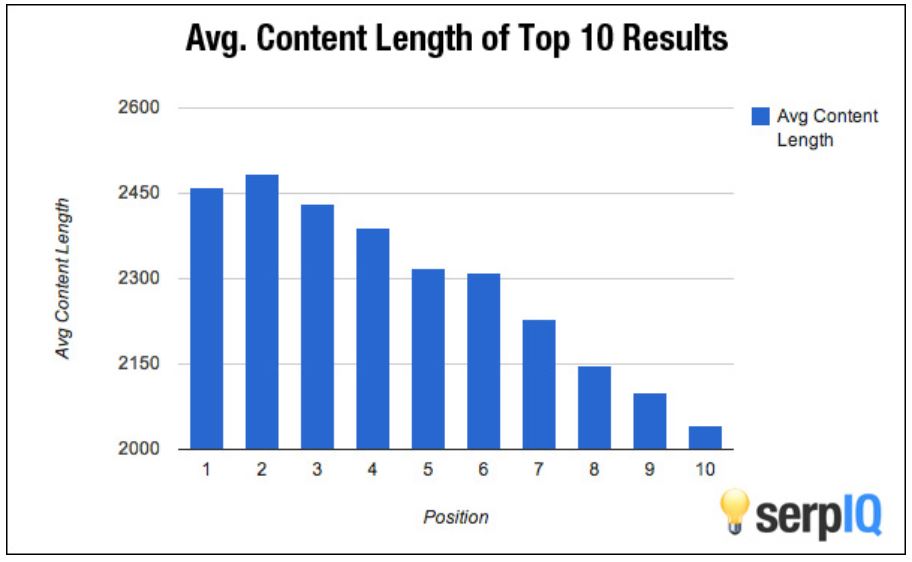 As you can see on the graph, not one of the top 10 results falls below 2,000 words. The first result has 2,416 words while the tenth has 2,032.

Word count is not the only factor in deciding on rankings. Google ranks this content higher because data shows it is preferred. This is proven by linking statistics that indicate:
Content Rich Sites = More Links
A study conducted by Buzzmo and Moz found that although 85 percent of articles are less than 1,000 words long, longer content gets shared and linked to a greater extent.


As seen on the chart, there is a higher correlation between total shares and referring domain links as an article's word count increases. Therefore, on average, a user is more likely to link to a piece of content with a higher word count.
More Shares and Engagement on Social Media
In-depth, long-form content also gets more shares on social media. When BuzzSumo sampled 100 million articles in a 2017 study they found that the longer the content, the more shares it gets.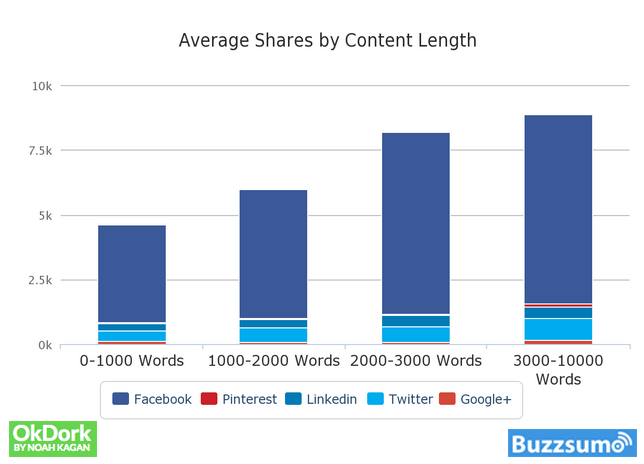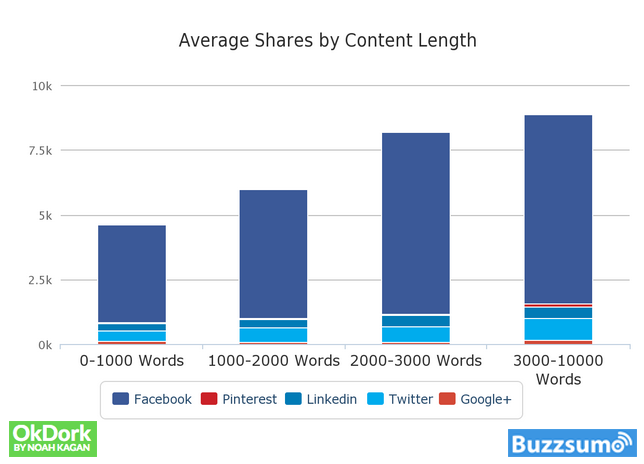 Again, this study also found there was less long-form content out there compared to short-form. While there is no definitive answer, it is likely due to the fact that long-form content takes exponentially more time and effort. However, it is clear in-depth, well-researched articles pay off in the long run.

Additionally, another study by Quick Sprout showed that blog posts longer than 1,500 words get 68 percent more tweets and 22 percent more likes than shorter ones. This kind of social media engagement is ideal for any industry.


The bottom line? People are reading and sharing long-form content more. This is important to keep in mind when developing your content marketing strategy. Remember: When your site is being linked to it increases the potential for readers to visit your website and served ads.
People are Becoming Better Searchers
How do we know this? Data is showing people are using longer search queries when searching. In fact, 8-word search queries are up by 34,000 percent. Ultimately, the general trend is that the percentage of people searching for 2 to 3-word phrases is decreasing. Meanwhile, the percentage of people searching for 4, 5, and even 8-word phrases is increasing. This is why it is beneficial to have a large amount of content on your website. The more words you have on each page, the more likely it is you're going to rank for long tail keywords. Although long tail keywords are searched for less, they are less competitive – making it easier to rank for them. They also convert better than head terms.
You Become an Authority

By contributing high-quality, long-form content into the mix, you have the ability to establish yourself as an authority on specific topics. When someone searches for a topic within your industry and they find your well-written blog post, they will associate you as an educator in that field. This trust can convert into major website traffic and the ability to serve ads to those visitors.
How to Create Effective Long-Form Content
That's the big question, right? How can you create long-form content that generates equally successful results? As we mentioned previously, your content needs to be high-quality in order to keep visitors on your website where they can engage with ads. Although there is no definitive rule book for creating long-form content, there are key points to keep in mind that will strengthen your strategy and maximize ad opportunities:
Produce Worthwhile Content
You could write over 10,000 words, but if what you are writing is sub-par, you shouldn't expect your rankings or conversions to go up. In order to see results with long-form content it has to be great long-form content. If your content is strong the tweets, links, conversions, and higher rankings will follow. However, it takes time, effort, and knowledge of the subject matter you are writing about.

Google is aware of comprehensiveness, high dwell times, and compelling titles and description tags of your content. Even so, your biggest challenge is reeling in the attention of the average consumer. However, if you provide them with a compelling blog or article that answers the questions they are seeking answers to, giving them a unique experience, and making them want to share it with anyone and everyone, the reward is great.


Don't Over-Stretch It
While it would be wonderful to be able to punch out 3,000 plus word blogs every time, sometimes a topic doesn't merit extended length. The ultimate goal of posting written content is to build a following around a brand that people can trust. Therefore, inflating a blog with fluff may weaken your credibility with readers. They will always appreciate a more concise blog over a wordy one.
Take a Deep Dive
If you searched for "how to rank higher on Google" you will find thousands upon thousands of blogs. The majority, however, will only scratch the surface of such a topic. If you discover a topic that merits a deeper dive and you execute it properly, that blog will stand out. By analyzing a topic more closely you'll creep above 1,000 words, differentiate your blog from the rest, and become a resource that will hopefully be linked back to time and time again. However, you'll want to make sure you aren't writing too broadly. Providing specific examples and instructions will make your blog more valuable to readers.

Write a Compelling Introduction
Your introduction is your chance to hook your readers. The more compelling it is, the more likely they will continue to read your blog. With that being said, you don't want to greet them with dense paragraphs of text. Keep your sentences short. This is a good SEO strategy to stick by whether you're writing long-form content or not. One-sentence paragraphs are perfectly acceptable in your introduction. As a guideline, stick to 4 to 12 sentences per paragraph.
Make Content Scannable
Often times when someone is reading a blog post or news article they are scanning. According to eye-tracking studies, readers follow an f-shaped pattern when they are looking at web pages. This is why it is important to make your content scannable. You want your readers to be able to pick out all the important information even if they don't read the entire piece. You can achieve this with: short sentences, short paragraphs, bullet points, and making items bold.

Include Relevant Images
Images are a great way to support your written content. Using photos, infographics, charts, or maps leads to better performing content. Backlinko research found that content on the first page of Google contains at least one visual. However, it is not enough just to include images alone. They need to be high-quality. A striking, high-resolution image is more likely to generate more Facebook shares than a weaker one.
Close With a Clear Call-to-Action
The closing paragraph of your long-form content is the ideal place to include a call-to-action. This can be anything you want to convey as an expectation to your readers. You may want them to share this post on their social media platforms. You could also include a link to a file of additional content for them to download. No matter what the CTA is, make sure it is clear and specific. For example, if your goal is to generate comments on your blog post use a phrase like "Tell us what you think in the comments!"
Examples of Successful Long-Form Content
It's important to be able to identify what long-form content works and what doesn't. Take a look at the compiled works – ranging from blogs to journalism to white papers – of long-form content to take note of. The more familiar you are with examples of long-form content, the more successful you will be at applying strategies to help your content thrive and get your ads served.
"Snowfall" – The New York Times
Works of journalism naturally lend themselves to long-form content. Journalists at established national publications like The New York Times have the time and resources to focus in on a subject and explore every angle. A perfect example of this is The New York Times' "Snowfall" – a piece that includes multiple mediums including video, maps, animation, and more. This work has become a staple in journalism schools, but marketers and anyone looking to produce high ranking content with brand value can also learn from its example.

When "Snowfall" was published on The New York Times' website in 2012 it became a viral piece of content shared across social media and cited in countless articles speculating about the future of digital content. Never before had people seen an example of digital storytelling on such a grand scale. Not only was the topic compelling – the 2012 Tunnel Creek avalanche – but its execution was incredibly impressive. As you go through the chapters you see the story unfold in creative and interactive ways. In sync with the website's redesign, "Snow Fall" is a piece of long-form content at its best.

Many brands are currently using data to create content. This is especially true with brands like Zillow – an online real estate database – that constantly collect data inherent to their function. Zillow has data on over 110 million homes. They consistently collect various categories of data including: lot sizes, square footage, average home prices, and many more. In addition to listicle-style articles, they publish data studies on home value, home listings and sales, rental values, rental listings, and forecasts – all available on their website.

The data studies published by Zillow serve as a powerful platform to educate readers. It also establishes their brand as experts in their field and a go-to resource. Presenting topics specific to the real estate industry gives them a competitive advantage over similar websites. If you are looking to publish a long-form data study like Zillow's you'll want to follow their lead by presenting information that is easily digestible for the average consumer.

At 4,900 words, this Backlinko article is a great example of blogging with a long-form content strategy. Its list format makes it easy to read. It also utilizes a variety of visuals (images, screenshots, infographics, etc.) to illustrate more complex ideas. These visuals make reading long-form content much less monotonous. Meanwhile, the topic is very specific – allowing the author to dive deep and show off their expertise.

One aspect of this article that stands out is its index. The author provides readers with a linked index in which they can navigate through the lengthy article with ease. With a click of a topic, readers are directed to a specific portion of the article. Remember – the easier you make the reading experience for the reader, the more likely they are to continue to engage with your content.

—

As studies and research continues to be published, we will learn more about long-form content and the strategies that make it successful. However, in the present, long-form content is becoming more of a standard than a trend in order to have an edge over competitors. By making it part of your marketing strategy you will expand your web exposure and in turn increase ad opportunities.

As you write this content and edit old content, you'll want to convert them into ad impressions. Need help? Fill out our form, and we'd be happy to assist you.